Swivel Sanding Pad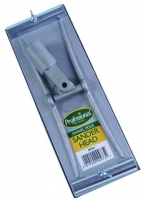 Swivel pole sander head for sanding off large areas - use with an extension pole and simply clamp on your sand paper.

The swivel pole sander head has a heavy duty cast aluminium body. Able to move and rotate in all directions, it is used with the extension pole to easily abrade large flat GRP areas.

Abrasive paper is securely clamped onto the head which has a cellular rubber underside to ensure even contact with the substrate.
Downloads