A170/A200/A200A/A250 Drip Trims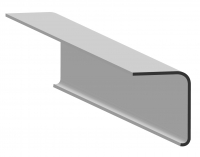 Drip trims are fitted to the lowest edge of the roof where water will flow into the gutter. Two support battens should be fitted to the fascia to sit under the trim to allow a space for the gutter to fit behind the trim. Fix ALL adhesive should be used to bond the trim to the batten on the vertical face, and nails used to fix the horizontal face onto the roof decking.

Don't nail through the face of the trim – this will show through the final topcoat finish on the front face. To join two lengths together simply overlap (by 50mm) and slot two pieces together using Fix ALL adhesive to bond together, then tape and resin over the joint with woven tape.

Fitted to the roof edges to allow drainage into the gutter.
A170 (75 x 84mm)
A200 (95 x 90mm)
A250 (95 x 140mm)
A200A (90 x 90mm)
(same A200, but with drip return)
Downloads