CrysticROOF BBA Premier System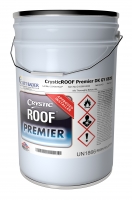 Introducing the 20 and 25 year guaranteed roofing system from Scott Bader
Introducing the up to 20 and 25 Year guaranteed roofing system from Scott Bader - CrysticROOF BBA Premier

Key Benefits
20 and 25 Year material guarantee*
Isophthalic topcoat for superior performance and long term weathering
Manufactured from virgin raw materials
CrysticROOF BBA Premier topcoat available in lead and mid grey. Other colours are available subject to minimum order quantity
All packed in 20kg easy pour containers
Fire certified system
Option to enhance with a fully insurance backed warranties using independent insurance scheme with Competent Roofer
Approved contractors given free listing on CrysticROOF website
Approved contractors can link to the CrysticROOF website and use the CrysticROOF BBA Premier logo and other marketing materials
Leads generated from customer enquires given for your area
No requirement to hold separate ancillary stocks
Manufactured in the UK by Scott Bader to ISO 9001, ISO 14001 and OHSAS 18001 standards

To qualify to become an approved CrysticROOF® BBA Premier installer you must attend a days training course

Course Contents;
1 day of training using an individual training rig
Q & A sessions
All materials and tools included

On successful completion you will receive:
Qualification certificate
Photo ID membership card
Entry onto the CrysticROOF® BBA Premier approved contractors database
You will also have access to marketing material for literature, website and van signage if required
Current training centre locations are in West Sussex, Northamptonshire, Plymouth and East London.
Please contact your local branch for further information or a booking form.

*Subject to completion and submission of CrysticROOF® BBA Premier guarantee materials forms.
For our up to 25 year guarantee installers must use 600g CSM chop strand mat.
Downloads
Related Videos
Scott Bader CrysticROOF - insitu cold applied GRP roof system